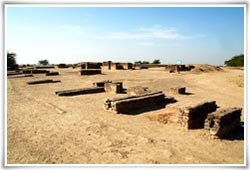 Situated at a distance of 80 kms from Ahmedabad, Lothal city is one of the well known cities of the ancient Indus valley civilization. The origin and history of Lothal can be dated back to 2400 BC. Lothal in Gujarat is one of the primary sites of archaeology. Though, it was discovered in the year 1954, but its excavation work began on the February 13, 1955, which continued till May 19, 1960. It was done by the Archaeological Survey of India (ASI). Read on to know more about Lothal in India.
Lothal has enjoyed the status of being the leading center of trade in the bygone times. It was actively involved in the trade of beads, gems and expensive ornaments that were exported to West Asia and Africa. The techniques that were used by the people of this city brought a lot of name and fame to them. People are of the say that, the scientists of Lothal were the ones to initiate the study stars and advanced navigation.
Lothal is very well connected to the Ahmedabad city via road and railways. The archaeological excavations that were carried out led to the finding of a township, dock, mound and a marketplace. Areas lying nearby the excavated sites consist of an archaeological museum, where you can take a look at the various Indus-era antiquities. So, if you have spare time, Lothal is a great destination that can be included in your sightseeing trip of Ahmedabad.