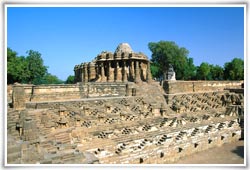 Situated on the banks of river Sabarmati, Ahmedabad is located on the western side of India in the state of Gujarat. Ahmedabad city has witnessed the rule of different dynasties, right from Sultanate and Mughal rule to Maratha and British rule. Thus, the history of Ahmedabad, India is very rich. Ahmedabad was the former capital city of Gujarat. During the freedom struggle of India, it served as the home of many prominent nationalist leaders like Sardar Patel and Mahatma Gandhi. To know more about the origin & history of Ahmedabad, read on…
Origin of Name
There is an interesting legend associated with the Ahmedabad city. Towards the beginning of the fifteenth century, the state of Gujarat was ruled by the Muslim Muzaffarid dynasty. Once Sultan Ahmed Shah was standing on the banks of river Sabarmati and he noticed a tiny hare chasing a strong ferocious dog. He kept pondering over it. He approached a spiritual leader and asked for explanation. This learned man said that, it is the uniqueness of this land that cultivates such rare qualities in its people. After having heard this, the Sultan got so impressed that he decided to set up the capital of Gujarat over here and he called this land Ahmedabad.
Sultanate Rule
Towards the end of the thirteenth century, Gujarat was captured by the Sultanate of Delhi. In the year 1487, the grandson of Ahmed Shah named Mahmud Begada established the outer city wall, so as to protect Ahmedabad from outside invasion. Muzaffar II was the last Sultan of Ahmedabad.
Mughal Rule
In the year 1573, the city of Ahmed Shah was taken over by the Mughal emperor Akbar. Under the rule of Mughals, Ahmedabad became the leading centre of textiles in Gujarat. The son of Akbar named Jehangir visited Ahmedabad in 1617, but found the city to be nothing more than a garbage ground. So, he called it Gardabad, the city of dust. However, Shahjahan spent a major part of his life in the Ahmedabad city. Infact, he also constructed the Moti Shahi Mahal in Shahibaugh.
Maratha Rule
In the year 1753, the rule of Mughals came to an end and the city came under the rule of Maratha generals Raghunath Rao and Damaji Gaekwad. The power struggle between them eventually led to the destruction of the city.
British Rule
The city was taken over by the British East India Company in the year 1818. The year 1824 led to the setting up of a military cantonment. A major development took place in the year 1864, when railway line was laid that connected Ahmedabad with Bombay. These developments brought Ahmedabad in the map of leading centers of trade and manufacturing. In the year 1915, people of Ahmedabad raised their voice for the independence of India.
Post Independence
The post independence period saw the declaration of Ahmedabad as a provincial town of Bombay. On the 1st of May in the year 1960, Ahmedabad became the capital city of Gujarat.