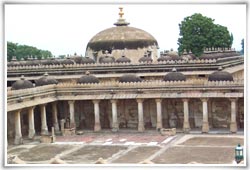 The city of Ahmed Shah, as in Ahmedabad has plenty of historical monuments, which serve as the main tourist attraction destinations of the city. The architectural designing of the Ahmedabad monuments represents a blend of Hindu and Islamic styles. The origin of most of the historical monuments of Ahmedabad, Gujarat can be traced back to the 15th century. To know more about the monuments in Ahmedabad, read on:
Bhadra Fort
When it comes to monuments in Ahmedabad, Bhadra fort is one name that indeed deserves a special mention. Constructed in the year 1411 A.D. during the rule of Marathas, it was established by Sultan Ahmed Shah, the founder of Ahmedabad city. Bhadra fort in Ahmedabad is a royal fort that occupies the top most position in the Ahmedabad sightseeing tour.
Dada Hari Vav
Built during the reign of Mehmud Begda in the year 1501, Dada Hari Vav is an elaborately designed stepped well. The well lies just behind the tomb of Dada Hari. It is one of the most complicated structures of the Ahmedabad city. The basic purpose of setting up the well was to provide the travelers with cool water and a place for relaxation.
Jhulta Minar
Ahmedabad is well known for its swaying minarets, more commonly known as Jhulta Minar. A classic example of superb craftsmanship, Jhulta Minar is actually a part of the mosque Siddi Bashir. The mosque has been constructed in such a manner that, if you apply a little force on its upper arc, the Minar tends to sway. For kids, Jhulta Minar in Ahmedabad, India is a real fun place.
Sarkhej Roza
Lying at a stretch of 8 kms on the south western side of Ahmedabad, Sarkhej Roza was the home of the spiritual leader of Sultan Ahmed Shah named Ahmed Kattu Gang Baksh, who was a Muslim religious leader. It contains a cluster of monuments, the origin of which can be dated back to the times of Mughal rule in Ahmedabad.
Teen Darwaza
Teen Darwaza is an architectural marvel, the beauty of which is surely going to leave you awestruck. Consisting of gorgeous arched gates, Teen Darwaza is one of the longest as well as the oldest gateways of the Ahmedabad city. It was established in the year 141 A.D. by Sultan Ahmed Shah, who founded the city of Ahmedabad.