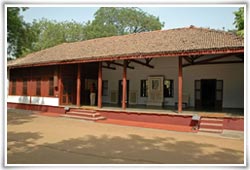 When you are through with your sightseeing trip of Ahmedabad, but still have some spare time, you can check out short excursions from Ahmedabad. For people who wish to fully explore the city of Ahmed Shah and visit all the places lying in and around the city, we will provide you with valuable piece of information on Ahmedabad excursions.
Interesting Places to See Near Ahmedabad
Lothal City
Situated at a distance of 80 kms from Ahmedabad, Lothal city is one of the well known cities of the ancient Indus valley civilization. The origin and history of Lothal can be dated back to 2400 BC. Lothal in Gujarat is one of the primary sites of archaeology.
Modhera Sun Temple
Situated at a distance of 102 kms from Ahmedabad on the bank of the river Pushpavati, the Modhera sun temple was constructed in the year 1026 AD. It was established by the King Bhimdev of the Solanki dynasty in the dedication of Lord Surya. It is one of the finest architectures of the eleventh century. One of the best features of the temple consists of the carved torana arches.
Nal Sarovar Bird Sanctuary
Lying at a stretch of 70 km from Ahmedabad, Nal Sarovar bird sanctuary is basically a natural lake that makes an excellent excursion. Spread over an area of 116 sq. km, it is well known for the vivid birds that migrate from Siberia. Bird sanctuary Nal Sarovar serves as an oasis of serenity in the midst of hustle bustle of city life.
Rann of Kutch Wildlife Sanctuary
Lying at a distance of 93 kms from the Ahmedabad city in the state of Gujarat, Rann of Kutch wildlife sanctuary is one of the largest sanctuaries in the entire country. Covering an area of 4950 sq ft, it is famous for its attractive chestnut brown Asiatic (Wild ass), a species of wild horses. It is also the natural habitat of wolf, blue bull, gazelle, jungle cat, Indian foxes, jackal and hare.
Shanku Water Park
Lying at a distance of 60 km from Ahmedabad at Mehsana Highway, Shanku Water Park is the first water park of the country. When this amusement park was opened for public use, it was like a pleasant surprise for the kids. The park offers excellent rides for children as well as kids, which ranges from lazy river to the thrilling tunnels .
Apart from the above-mentioned places, in case you want to explore Ajanta & Ellora, forts & lakes of Rajasthan, and backwaters of Kerala, check out
India vacation packages
.