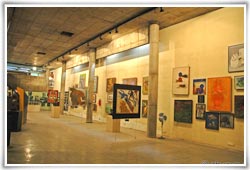 To explore the glorious past of the city of Ahmed Shah, a visit to the museums of Ahmedabad, India is indeed a must. Ahmedabad museums will give you a valuable insight into the culture and lifestyle of Ahmedabadis. Each museum at Ahmedabad in Gujarat houses important artifacts, miniature paintings and other items of daily use. All these things that are kept in the museum are very valuable from the point of view of archaeological importance. These museums will take you into the past, thereby giving you an opportunity to know about the royal life of the rulers of the Ahmedabad city.
In this section, we will cover the following museums:
Sardar Patel National Memorial
As the name suggests, Sardar Patel national memorial was established in the memory of Sardar Vallabhbhai Patel, who was a great freedom fighter. Located in the environs of Shahibaugh in Ahmedabad, Sardar Patel national memorial museum is also known as Moti Shah Mahal. The museum houses various portraits of Sardar Patel, his family members and friends.
Sabarmati Ashram
Set up in the year 1915, Sabarmati ashram was the central point from where the struggle for India's Independence was started. Till the year 1930, the ashram at Sabarmati was the home of Mahatma Gandhi. Bordered by shady trees, the atmosphere over here is very tranquil and peaceful. During the Indian struggle for independence, it was also referred to as the Satyagrah Ashram.
Hussain Doshi Gufa
Hussain Doshi Gufa is an underground art gallery located in Ahmedabad that depicts the works of the famous Indian painter named M.F.Hussain. It has been designed by the famous architect B. V. Doshi. Thus, the art gallery has been named after the two eminent personalities, Hussain and Doshi. The gallery is more popularly known as Amdavad ni Gufa. It has been given the name Gufa, as its structural design resembles a cave.
Calico Museum of Textiles
Calico museum of textiles in Ahmedabad is one of the finest museums of the world. Founded by Ms. Gira Sarabhai, the museum exhibits an enormous collection of fabrics, which are collected from all over the country. Situated in the vicinity of Shahibaugh Palace, the museum is bordered by lush green gardens and fountains that provide an enchanting view.