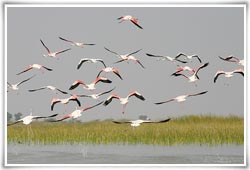 Lying at a stretch of 70 km from Ahmedabad, Nal Sarovar bird sanctuary is basically a natural lake that makes an excellent excursion. Spread over an area of 116 sq. km, it is well known for the vivid birds that migrate from Siberia. Bird sanctuary Nal Sarovar serves as an oasis of serenity in the midst of hustle bustle of city life. Flocks of birds, consisting of flamingos, ducks, geese and pelicans, visit this Lake. Read on to know more about Nal Sarovar bird sanctuary in India…
If you visit this place, its beauty and tranquility is surely going to steal your heart and make you feel as if you are in the paradise. It is nothing less than a dream world. It appears like a fairyland on the full moon nights. Some of the birds that can be more commonly found here include osprey, harriers, flamingoes, pelicans, storks, ibises, wading birds, geese, cranes, spoonbill, swallows and fishing eagles.
Apart from the colorful humming birds, another major attraction of Nal Sarovar bird sanctuary consists of the numerous islets that further enhance its charm. It is just the apt place for people fond of bird watching. If you are thinking of how to reach Nal Sarovar bird sanctuary, then there is nothing to worry, as this place is very easily accessible by road. On the weekends, it is one of the busiest tourist attraction spots of Ahmedabad. Hundreds of people throng this place. To relieve your stress level, it is one of the best weekend getaways.