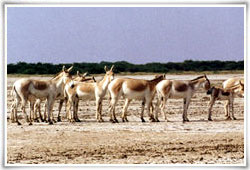 Lying at a distance of 93 kms from the Ahmedabad city in the state of Gujarat, Rann of Kutch wildlife sanctuary is one of the largest sanctuaries in the entire country. Covering an area of 4950 sq ft, it is famous for its attractive chestnut brown Asiatic (Wild ass), a species of wild horses. It is also the natural habitat of wolf, blue bull, gazelle, jungle cat, Indian foxes, jackal and hare. Read further to know more about Rann of Kutch wildlife sanctuary in India….
It is the home of plenty of birds. To name a few, we have houbara bustard, spotted & Indian sand grouse, larks, francolin partridge, bustard quails, pelicans, desert wheatear, vultures, laggar falcon, cranes steppe eagle, flamingoes, ducks, and storks . For the adventurous lot, there can be no better option than going on a short trip to this wonderful wildlife sanctuary that houses even the rarest species of birds and animals.
Rann of Kutch is easily accessible via Dasada village, which lies at a distance of nearly 93 kms from Ahmedabad. It is fun to go on the jeep safari for visiting the little Rann of Kutch wildlife sanctuary. To ensure your comfortable stay, there are plenty of places to stay in the Rann of Kutch, ranging from luxury and deluxe hotel to budge hotels and guest houses. The place provides you with a number of options to eat, so eating out is not a problem.