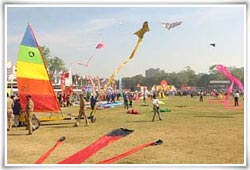 One of the major festivities of Ahmedabad is the international kite festival that is celebrated every year on the 14th of January. It falls on the same day as the festive occasion of Uttarayan or Makar Sankranti. Many days before the arrival of Ahmedabad international kite festival, people are excited about it, especially the youngsters. Read on to know more about International Kite Festival in Ahmedabad, India…
Uttarayan international kite festival usually falls on a bright shining day with clear skies. The wind is strong enough to lift plenty of kites high up in the air. It is also celebrated to observe the end of winter season and give a warm welcome to the summer season. It is during this festive occasion that, Ahmedabad turns into a hub of life. The entire city is abuzz with activities and feasts. On the day of international kite festival, people keep aside all their work and head their way to the open fields or terrace of their house for flying kites.
It is the time for rejoicing, as it marks the shift in the movement of sun towards the Northern hemisphere. Ladies get engrossed with the task of preparing special dishes for the festivity. The kite flying competition begins at dawn and continues throughout the day. During this festive occasion, the markets provide you with distinctive varieties of kites, differing in color, design and style. Thus, there is a multitude of options available for you to choose from. This is how the Uttarayan international kite festival is celebrated at Ahmedabad in Gujarat.