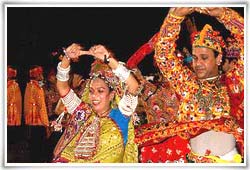 Devoted to Goddess Shakti, the Navratri festival in Ahmedabad is celebrated with gaiety and fervor. The main highlight of the festivity of nine nights is the folk dance of Gujarat called Garba. Each day of the fiesta begins with the performance of aarti. The entire state of Ahmedabad gets energized with the thought of celebrating the Navratri festival. Well, in this article, we will provide you with information on the Navratri festival in Ahmedabad, India.
People perform the Garba folk dance around the statue of Goddess Shakti. Garba is carried out till late midnight. The dancers usually make use of dandiya, i.e. long wooden sticks, to play garba. During this nine day long festivity, the Ahmedabad city is beautifully decorated with colorful lights. The maiden day witnesses the growing of seeds and the farmers closely watch them sprouting. Read on to know more about the Ahmedabad Navratri festival…
On the eighth and ninth day of the Navratri festivity, people offer prayers to Goddess Durga, Vijayashtami and Mahanavami. To invoke the blessings of Goddess, people cite texts like The Devi Mahatmya. The main dance performances that take place during the festive occasion of Navratri consist of the Rasa and Garba dances, in which people of age groups participate with full enthusiasm. The next day after Navratri festival is Dussehra that is observed to celebrate the triumph of Lord Rama over the demon Ravana. This is how the Navratri festival is celebrated in Ahmedabad, India.