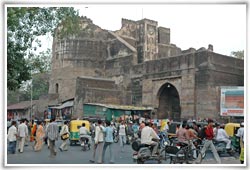 When it comes to monuments in Ahmedabad, Bhadra fort is one name that indeed deserves a special mention. Constructed in the year 1411 A.D. during the rule of Marathas, it was established by Sultan Ahmad Shah, the founder of Ahmedabad city. Bhadra fort in Ahmedabad is a royal fort that occupies the top most position in the Ahmedabad sightseeing tour. Read on to know more about Bhadra fort in Ahmedabad, India…
Consisting of splendid palace and beautiful lush green garden, the charm of Bhadra fort is unbeatable. The fort is well known for the Bhadrakali Temple that was built in the dedication of Hindu Goddess 'Bhadra, a different form of Goddess Kali. In the present times, the fort more often serves as the venue for conducting flag hoisting ceremony during the occasion of Independence Day & Republic day.
Within the vicinity of the Bhadra fort, there are located a couple of Government offices. On the eastern side of the fort, lies the well known Teen Darwaza, which is another important tourist attraction spot in Ahmedabad. Bhadra fort, which is made by using the beautiful deep red stones, stands majestically even today. It is the maiden Muslim edifice that was constructed long back in the Ahmedabad city.
The fort houses a magnificent palace, the arches and balconies of which are ornately embellished. People are of the belief that, Goddess Lakshmi had once visited the Bhadra fort and blessed the Sultan that, his city would always remain prosperous. Since times immemorial, people of Ahmedabad have been wealthy and infact, Ahmedabad has throughout been the hub of trade and commerce in the state of Gujarat.