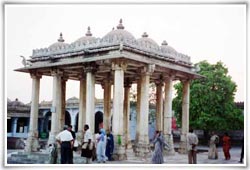 Lying at a stretch of 8 kms on the south western side of Ahmedabad, Sarkhej Roza was the home of the spiritual leader of Sultan Ahmed Shah named Ahmed Kattu Gang Baksh, who was a Muslim religious leader. It contains a cluster of monuments, the origin of which can be dated back to the times of Mughal rule in Ahmedabad. Read on to know more about Sarkhej Roza in Ahmedabad, Gujarat…
It is a platform where three distinctive worlds coexist, namely royal, religious and social. The palaces and tombs form part of the royal world, the mosque constitutes the religious realm and the tanks and pavilions have given rise to the social world. The carved stone grills create an atmosphere of tranquility, thereby serving as a great retreat for people seeking peace.
When you visit Sarkhej Roza, do not forget to take a look at the tomb of Saint Ahmed Khattu Baksh, the spiritual guide of the founder of Ahmedabad city. It also houses the tomb of the Emperor Mehmud Shah Beguda and his queen. Sarkhej Roza of Ahmedabad is renowned for the marvelous buildings that lie within its premises. The architectural pattern of Sarkhej Roza is mesmerizing. The reflection of sunlight creates beautiful impressions.