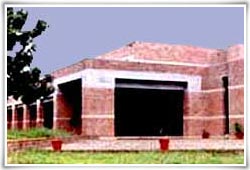 Calico museum of textiles in Ahmedabad is one of the finest museums of the world. Founded by Ms. Gira Sarabhai, the museum exhibits an enormous collection of fabrics, which are collected from all over the country. Situated in the vicinity of Shahibaugh Palace, the museum is bordered by lush green gardens and fountains that provide an enchanting view. Read further to know more about Calico museum of textiles at Ahmedabad in Gujarat…
Established in the year 1949 AD, the museum has a large variety of woven fabrics. A wide array of clothing is available, ranging from religious clothes to the ones that are worn in the royal court rooms. Differing in quality and price range, there is something for every visitor. Popular works include sequins, mirrors, beads, silk threads etc. The unique feature of this museum is that, here you can even find the fabrics that can be traced back to the times of seventeenth century.
Though, the name in itself is suggestive of the fact that the museum houses textiles, but in reality, it also contains furniture and various kinds of crafts gathered from different parts of the country. Images made from sandstone, marble and bronze that can be found here are always in demand. The museum has two separate sections for textiles, one is meant for the religious clothing and the other section consists of the historic textiles. The Calico museum of textiles is definitely worth a visit.