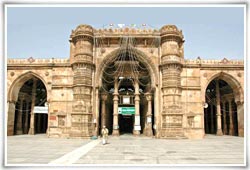 Lying opposite to Mahatma Gandhi Road, on the eastern side of Teen Darwaza, Jama Masjid is one of the most splendid mosques of India. Constructed in the year 1423 A.D, the Ahmedabad Jama Masjid was established by Sultan Ahmed Shah, the founder of the Ahmedabad city. Read on to know more about Jama Masjid in Ahmedabad, India…
Made by using yellow sandstones, the architecture of this mosque is a blend of Hindu and Muslim styling. This edifice was built using items rescued from the demolished Hindu and Jain temples. Supported by 260 pillars, the Jama Masjid of Ahmedabad consists of 15 domes. Jama Masjid lies in the heart of the old city.
There are different entrances to the mosque. Near the eastern entrance, stands the tomb of the Sultan Ahmed Shah, which houses the graveyard of three great rulers, namely Ahmed Shah I, his son, Mohammed Shah and his grandson, Qutub-Ud-Din Ahmed Shah II. The strong structure of this mosque has been able to withstand the pressure exerted by heat and rough weather. A visit to this fabulous monument is indeed a must.