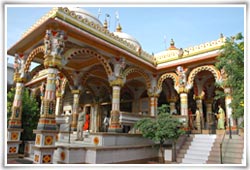 The first and foremost Swaminarayan temple was built at Kalupur in Ahmedabad. Being the most prominent temple, it is always thronged by people. People come from different parts of the country and congregate here in this temple to seek the blessings of the deity. Dedicated to Lord Swaminarayan, the temple boasts of its exquisite wooden carvings. Read further to know more about the Swami Narayan temple in Ahmedabad, India…
The structural design of the Ahmedabad Swaminarayan temple is mesmerizing. The interiors and exteriors of the temple have been adorned with the typical Gujarati designs that depict different aspects of the Gujarati culture and lifestyle. The architectural style of the temple is commendable and truly has an unbeatable charm. Standing royally behind the huge gates across the Relief road, the Swaminarayan temple of Ahmedabad has beautifully decorated domes and galleries.
To further accentuate its charm, there are lush green lawns lying outside the temple, which provide a very pleasing view. The Swaminarayan temple has been designed in a manner resembling the styling of a mansion. On the southern side of the temple, there are nine tombs, which are more popularly known as 'Nau Gaz Pir' or 'Nine Yard Saints'. Swami Narayan temple is indeed worth a visit.