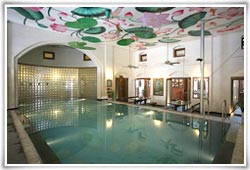 Ahmedabad, being the leading centre of trade in Gujarat, witnesses huge crowds of people, who visit the place for business purposes. Also, worshippers come from different parts of the country to visit the several pilgrimage sites of Ahmedabad. It is a land of royal palaces that have now been transformed into the heritage hotels. To make your stay comfortable, we will provide you with information on the Ahmedabad accommodation.
There is no problem of accommodations in Ahmedabad, India. Infact, there are numerous places to stay in Ahmedabad. Well equipped with all the modern facilities, the hotels over here provide you with great options to choose from. Depending on your budget and requirement, you can opt for luxury, deluxe or budget hotel. The hotels provide you with a world class ambience that conforms to international standards.
The rooms are spacious and airy and also make adequate provision for ventilation. Fabulous service of the hotel is surely going to please you. The best thing is that, most of the
hotels in Ahmedabad
are located at a convenient point, which is a few kms away from the airport and railway station. For visitors seeking decent accommodation at an affordable price, there are myriad budget hotels and guest houses.
Luxury Hotels
Cama Hotel
Comfort Inn Sunset
Fortune Hotel Landmark
Hotel The Westend
Quality Inn Rivera
Three Star Hotels
Fortune Hotel Landmark
Hotel Moti Manor
Hotel Royal Highness, (Government Approved)
Rivera Hotel
Rock Regency (Government Approved)
The Westend
Budget Hotels
Aaram Hotel
Ajanta Hotel
Ambassador Hotel
Amber Hotel
Aristo Hotel
Associated Hotels Private Limited