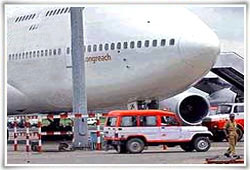 Ahmedabad is one of the fastest growing centres of business. It is owing to this reason that, huge crowds of people mob this place. Ahmedabad is one of the most sought after tourist destinations not just for business reasons, but also because it houses several splendid monuments and other tourist attraction spots. It is here that Ahmedabad airport makes it possible for outsiders to conveniently visit Ahmedabad via air.
Ahmedabad has its own international airport, named Sardar Vallabhbhai Patel Airport, which serves as the most convenient point for making entry into this beautiful place. It is very well connected with major metropolitans and rest parts of the country. There are numerous flights to and from Ahmedabad that operate on a regular basis. Sardar Patel international airport in Ahmedabad is one of the busiest airports of the country.
Sardar Vallabhbhai Patel airport in Ahmedabad has two independent terminals, one for domestic flights and the other for international flights. Both the terminals make use of the same airside facilities. The airport is equipped with all the facilities of modern world. Some of the amenities that are provided include book shop, provision for money exchange, car rental, cyber café, prepaid taxi counter, STD / ISD / PCO, medical care facility, free baggage trolley and many more.