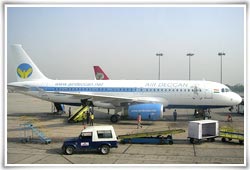 Ahmedabad has its own international airport called Sardar Vallabhbhai Patel airport, which is well connected with all the major cities like Mumbai, Delhi,
Bangalore
, Chennai, Kolkata, Goa, Hyderabad, Coimbatore and Jaipur. There are myriad airlines that operate regular flights to and from Ahmedabad. Read on to know more about Ahmedabad flights…
If you are looking out for cheap flights to Ahmedabad, India, then there are a few airlines that provide scheduled air services to the Ahmedabad city. To name a few, we have Air India, Indian Airlines, Alliance Air, Jet Airways and Sahara Air. The international airlines that provide air services to Ahmedabad include Air India, Indian Airlines, and Singapore Airlines.
There are plenty of airlines that run domestic flights from Ahmedabad, Gujarat like Jet Airways, Air India, Alliance Air, Air Deccan, Indian Airlines, Air Sahara, SpiceJet, Kingfisher Airlines, and GoAir. Indian airlines run about three to four flights in a day. The air fare of Air Deccan is very less and the best part is that, you can get real low-priced tickets and that too even at the last minute.