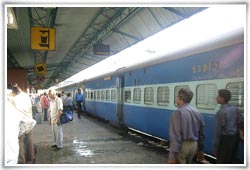 Reaching Ahmedabad, India is not at all problematic, as the city is easily accessible from the major cities of India. It has an excellent road network and this makes it easier for people staying at a short distance from the main city to travel to Ahmedabad. As far as the railway system is concerned, the Ahmedabad railway station, which is more popularly known as the Ahmedabad Junction railway station, serves as the main terminus of the rail transport in the state of Gujarat. Read on to know more about traveling to Ahmedabad…
How to Reach Ahmedabad
By Air
Sardar Vallabhbhai Patel airport at Ahmedabad provides adequate air facilities. There are numerous domestic and international airlines that operate flights on a regular basis. Air India operates direct flights to USA and UK from Ahmedabad. Ahmedabad is connected to all the major cities like Mumbai, Delhi, Bangalore and Chennai via air.
By Rail
Ahmedabad is very well connected with rest parts of the country by train. There are regular trains to metropolitans like Delhi and Mumbai.
By Road
Ahmedabad has a wide network of roads. For travelers residing in other parts of Gujarat like Vadodra, Gandhinagar, Palitana, Rajkot, and Jamnagar, traveling to Ahmedabad is very convenient by road.