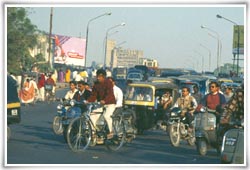 There are various means of transport in Ahmedabad, so getting around in the city is very easy. The black and yellow colored taxis in that are usually found in Mumbai are rare in Ahmedabad. In Ahmedabad, you can hire the private taxis, which are more often called the luxury taxis. The taxis can be hired for the full day for sightseeing purpose. Well, in this article, we will provide you with information on Ahmedabad local transport.
For short distances, people prefer rickshaws, as in the three wheelers. Every rickshaw driver has the fare chart, which states that how much price should be charged for different distances. The farther the distance, the more the price you'll have to pay. When you board a rickshaw, it becomes of prime importance to ensure that, the driver sets the meter at zero. After reaching your destination, have a look at the fare chart and pay accordingly.
When it comes to public transportation in Ahmedabad, buses run by the Ahmedabad Municipal Transport Services (AMTS) are the most common means of transport used by people. Buses charge a very nominal price for their service. They don't have a fixed time schedule but operate on a regular basis. Another popular local transport consists of the shared rickshaws, which move from one point to another for getting more and more passengers.
Communication in Ahmedabad
The system of communication in Ahmedabad is very efficient. The postal services are extremely smooth and it takes less than 10 days for letters to reach US & UK from Ahmedabad. The letters that are to be sent abroad must be marked 'Air Mail' or 'Par Avion'. It is pretty difficult to send parcels, as they are likely to be tampered with. Courier service is widely available in the Ahmedabad city. To know as to how to communicate in Ahmedabad, read on…
There are various means of communication in Ahmedabad. With the advancements in technology, the cyber cafes are mushrooming in number. The rate of surfing varies from one locality to another. At every nook and corner, there is a phone booth, from where you can make local, STD as well as ISD calls. In the contemporary times, also available are the facilities of 'Subscribers' Trunk Dialing' and 'International Standard Dialing'. Thus, communication is not a problem in Ahmedabad.