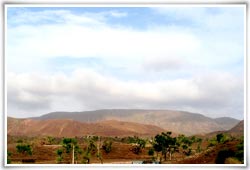 Ahmedabad is dominated by three main seasons, namely summer, monsoon and winter. The climatic conditions of Ahmedabad vary from season to season. Located at an altitude of 55m above the sea level, Ahmedabad city primarily experiences extreme type of climate. There is a lot of difference in the day and night temperatures. Well, in this article, we will provide you with information on the Ahmedabad weather.
Talking about the climate & weather of Ahmedabad, it is usually hot and moist. Summer season begins during March and ends by the month of June. Monsoons come like a pleasant surprise in the month of July and are prevalent in the city till the month of September. Winters are chilly, but at the same time very enjoyable. This season dominates the city during the period between November and February.
Summers are extremely hot and harsh and at times the temperature shoots to as high as 46°C. During monsoons, the city experiences good amount of rainfall. The city is dominated by the Southwest monsoons and it is during this time that people of Ahmedabad breathe a sigh of relief from the scorching heat. For traveling to Ahmedabad, the best time is during winters, as the weather is very pleasant and just apt to explore the beautiful Ahmedabad city.